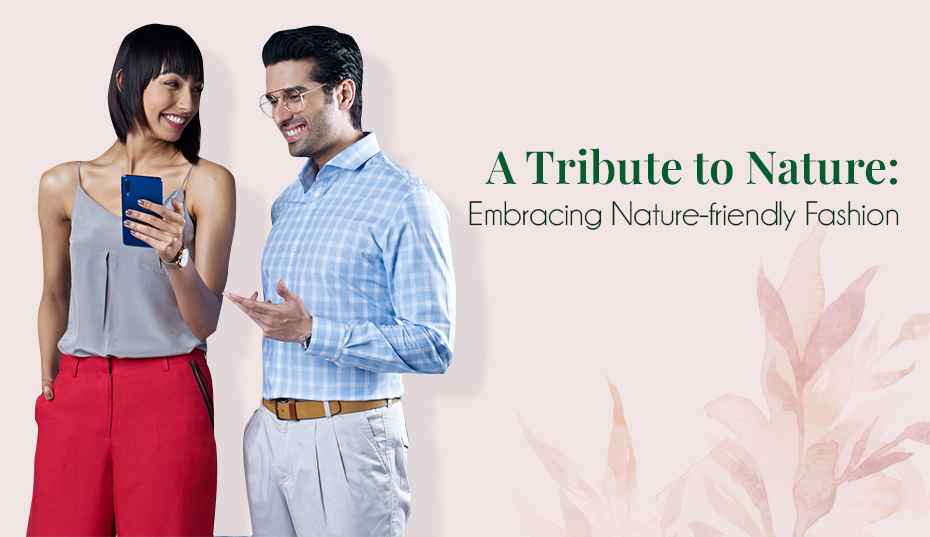 A Tribute to Nature: Embracing Nature-friendly Fashion
What is the first emotion that pops into your head when you picture yourself being close to nature? Maybe it's comfort, solitude, peace, joy – the list is endless; but it almost always comes down to feeling one with nature.
 And, while your bare existence is the closest representation of nature in its purest form, you cannot really function in a society without letting it leave its marks on you on an individual level. In order to reconnect with nature, you must first unravel everything that keeps you away from feeling the tranquility and instead put on layers that envelop you in nature's embrace.
Clothes are often considered as being 'second skin' and a medium of expression for a lot of people. This philosophy further emphasizes on why it is so important that you wear clothing sourced from natural materials if you desire being close to nature even in the daily hustle and bustle of modern society.
The Shortcut to Ease collection by Zest Mélange is a tribute to everything that nature encapsulates – providing you with the finest quality of nature-friendly clothing and excellent craftsmanship so that you can unwind, relax and experience natural bliss on your off-days.
Embrace the playfulness of nature
Akin to the leaves of the trees and waves of the ocean that ebb and flow with the slightest nudge from the wind, Zest Mélange's new collection is designed to make you feel connected to the rhythm of nature. Being the life of every party is easy when your clothing reflects the freedom and ease of movement found in vast wilderness or the expansive seaside.
The Cheery Thrill Ruffle Detail Playsuit, made from sustainable lyocell fabric, embodies the soft flow of expression with its ruffle detail, allowing you to express yourself with unrestricted movement. With cross pockets, back zip opening and rolled up hem, this playsuit is the perfect fit to honour nature's free spirit.
Cheery Thrill Ruffle Detail Playsuit - 
Similarly, the Glorious Ease Printed Resort Shirt draws its inspiration from the multitude patterns and designs found in nature. With a pineapple print cotton fabric and turn up sleeve detail, our leisure wear crafted using natural fabrics has never been so stylish.
Glorious Ease Printed Resort Shirt 
Embody the sharpness in nature with unbound ease
A nature retreat is what your heart craves when you want to escape the monotony of daily routine. Keeping this innate desire to be close to true calmness, our co-ord sets are made to fulfil your longing for being in tune with the rhythm of nature.
Break free from the rules and honour your inner free spirit with vibrant colours and daringly unique styles that reflect the limitlessness of nature. The Cheering Ease Boxy Front Button Top & High Waisted Shorts is the right fit when you want to experience the freshness and freedom of nature.
Cheering Ease Boxy Front Button Top & High Waisted Shorts - 
If a playful escape is what you need, the Thunderous Blow Twist Crop Top & High Waist Shorts with its front twist detail crop top and pleated front tie shorts are an ideal choice when you are craving for unadulterated movement and freedom of expression!
Thunderous Blow Twist Crop Top & High Waist Shorts - 
And finally when you want to simply chill, style the Joyous Thrill Untuck Shirt with the Wayfarer Shorts to complete a crisp outfit that will always keep you feeling relaxed, be it a sundowner or an informal meeting.
Joyous Thrill Printed Patch Pocket Untuck Shirt 
Wayfarer Shorts With Diagonal Zip Pocket 
Flaunt nature's elegance with grace
Gracious, soft and bold become synonymous to nature when you learn to appreciate all of its elements in their raw forms. Drawing inspiration from these qualities, the Dusky Breeze Halter Neck Playsuit and Roaring Fun One Shoulder Top with the Front Tie Shorts perfectly portray the different moods of Mother Nature.
Dusky Breeze Halter Neck Playsuit 
Roaring Fun One Shoulder Top & Front Tie Shorts
Often, our modern way of living makes it seem as if we've been disconnected from our origins, from our roots, from Mother Nature; yet, we fail to realize how deeply connected we truly are! The serenity found in nature never really leaves us – we only need to look for it in the right place.
Come, discover the beauty of nature with Zest Mélange. Browse our new leisure wear collection consisting of natural material clothes and honor nature's purity by reflecting it in your everyday life!
Women
Men