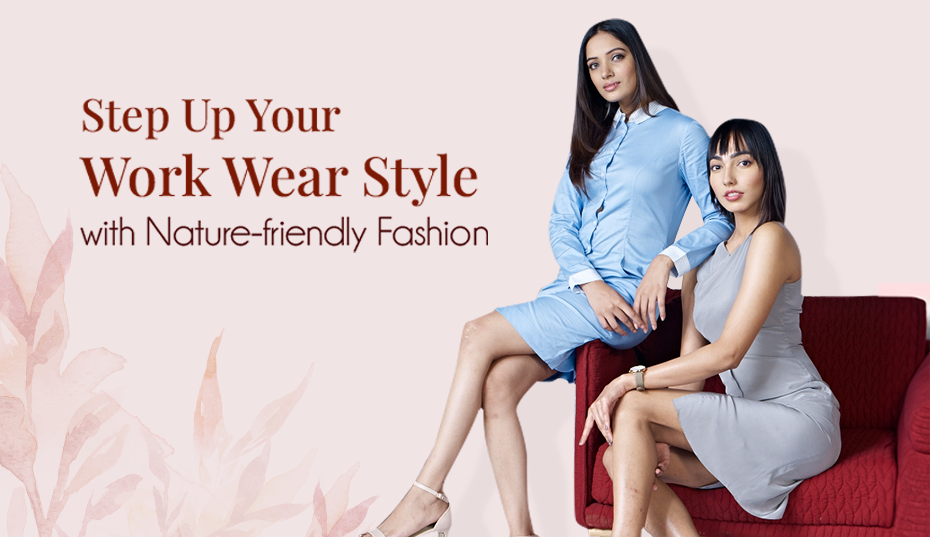 Step Up Your Work Wear Style with Nature-friendly Fashion
Fashion is ever-evolving. Even rigid ways of the corporate world tend to make way for innovations in fashion. From business formals to smart casuals, there are a number of ways to leave an impression and express yourself through your clothes in an office setting. And, while formal wear doesn't give you much room to experiment, there is a way to revamp your business casual attire without making it too flashy/gaudy – with Zest Mélange's new business casuals collection for men and women.
We believe that being fashionable shouldn't come at the cost of our beloved planet. At Zest Mélange, our collection of nature-friendly workwear is crafted to give you the feel of premium clothing with nature's essence so that you can fashionize your work-self responsibly.

For Men: 
Short sleeves:
A stylish spin on the classic striped shirt, the Pursuit Short Sleeve Striped Untuck Fit Shirt is your segue into fashioning your office wear. This shirt is made from the finest linen fabric and is designed with flapped patch pockets with an untuck fit tailoring.
Pursuit Short Sleeve Striped Untuck Fit Shirt
Add pleasant colours inspired by nature's best and break out of the monotonous routine with the Virtuoso Short Sleeve Striped Untuck Fit Shirt. This shirt has been tailored from a blended fabric of the finest natural linen & cotton, to bring you closer to nature's purity.
Virtuoso Short Sleeve Striped Untuck Fit Shirt
Long sleeves:
If there is one design that never gets boring, it's anything that contains chequered patterns. The Percept Full Sleeve Untuck Fit Check Shirt adds the element of comfort to a classic design with a shade of blue that will make you feel free, breezy and pleasant throughout the day. Made with earth-friendly cotton fabric, you will find yourself appreciating the quality of the craftsmanship each time you put the shirt on.
Percept Full Sleeve Untuck Fit Check Shirt 
Sometimes subtle details are all you need to make something stand out. Made with the finest cotton fabric, the Pollyanna Full Sleeve Untuck Fit Shirt has a contrast topstitch that represents the balance between the sombre yet playful elements of nature. Falling right between classic and contemporary, it is the perfect shirt for all your business casual occasions.
Pollyanna Full Sleeve Untuck Fit Shirt


For Women:
One-piece:
A singular item of clothing that you can wear anywhere, no matter what the occasion is the one-piece outfit in all its forms. A blessing in fashion for women everywhere, be it a dress or jumpsuit, nothing can beat the efficiency of a one-piece outfit.
The business casuals collection at Zest Mélange contains smart casual workwear items for the women of today who need function and style when it comes to dressing up for work. Our wide variety of clothing is here to fulfil this exact need for efficiency.
Put on the Exultation Front Bow Jumpsuit when you need to feel nature's vibrancy and delicacy, without losing out on looking sharp through a busy day.
Exultation Front Bow Jumpsuit
The Grandiloquent Wrap-A-Round Flounce Dress is the ultimate business casual attire for women, allowing room for free movement while having a snug fit that makes you look elegant in every work occasion.
Grandiloquent Wrap -A- Round Flounce Dress
Tops:
Similar to a few other items in the collection, the Effulgent Poise V Neck Crop Top has also been tailored keeping simplicity at the core of its design. It's the vibrant and deep blue shade of the garment that speaks volumes instead, blending the wild yet tranquil side of nature with the latest designs.
Effulgent Poise V Neck Crop Top 
The abstract elements found in nature have been reflected in the Ebullient Fervor Stripe & Solid Mix & Match Shirt, capturing the high spirit and liveliness of the world around us with the use of two different fabrics to exaggerate the contrasting elements in the design. Tailored using organic cotton silk blend and viscose, the fabric feels soft and gentle, mirroring the purity of nature.
Ebullient Fervor Stripe & Solid Mix & Match Shirt
The Drapey Rejoice Sleeveless Top and Bodacious Flat Collar Tunic Style Shirt can best be described as two sides of the same coin. With a fit tailored to accentuate your curves, you can select the former if you desire a soft and carefree look. As for when you want something fierce, the red shade of the latter is your best choice to achieve a sharp yet gentle look that stands out, every time.
Bodacious Flat Collar Tunic Style Shirt
You can pair these tops with your favourite trousers from our collection, like the Exhilaration Elasticated Calf Pants, and complete the nature-inspired aesthetics of your look with ease.
Exhilaration Elasticated Calf Pants
At Zest Mélange, our nature-friendly business casuals collection is made with the intention of being your one-stop shop for premium quality clothing that brings you closer to nature, wrapping you up in its essence, its purity.
Fashionize responsibly with our business casual attires and celebrate nature's vibrancy in the best way possible.