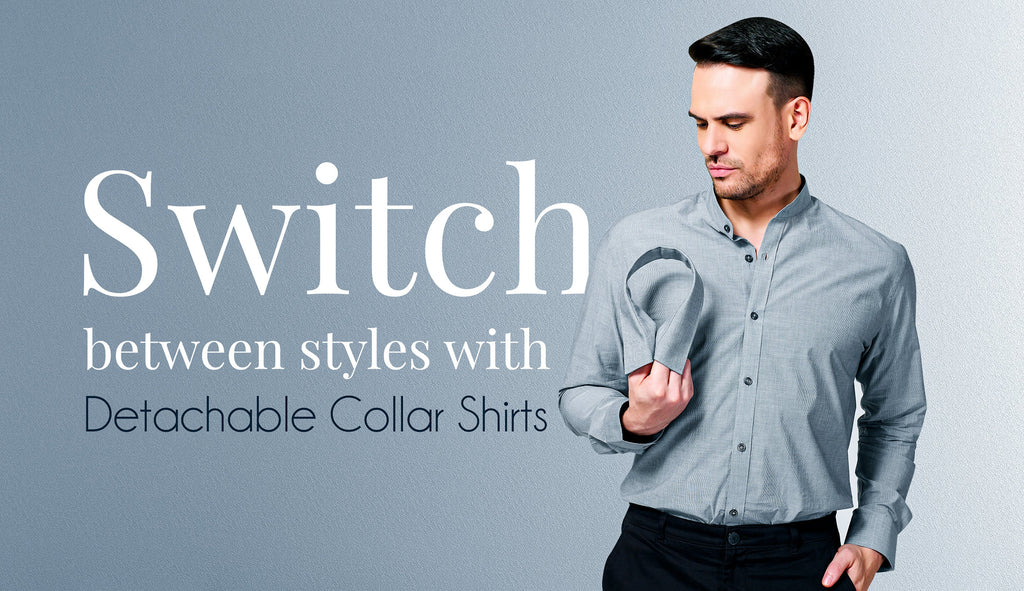 Detachable Collar Shirts: Going Beyond Basic Fashion
Clothes and events are interrelated; it's all about vibes. You can't wear formals to meet your friends, and you certainly can't wear casuals for formal meetings, but have you ever felt that you need a shirt that can change your formal look into a casual one & vice versa within seconds?
Most of us do, and there's a smart solution to this problem. Detachable collar shirts can help you create suitable looks effortlessly. Don't believe it? We'll show you! 
What are detachable collar shirts? 
As the name suggests, a detachable collar shirt comes with a removable collar that can help you style the shirt as per the occasion. Many detachable collar shirts have a casual standing collar and a classic collar (detachable) that gives you the best of both worlds. 
How to style a men's detachable collar shirt? 
White that steals the limelight 
For a formal look 
When it comes to styling a formal attire, you can wear a white detachable collar shirt with tan or black chinos for a sharp and classic look. 
You can go for these classic black chinos from Zest Mélange 
The fitting of the shirt matters the most when it comes to formal wear; so, choose a proper fitted shirt that'll complement your look. 
For a casual look 
The same shirt without the detachable collar can give you the easy-breezy look. You can pair it with light blue jeans or a pair of beige shorts as well.   
Checkout this detachable collar shirt by Zest Mélange that can be a perfect addition to your wardrobe for formal events and casual outings, effortlessly.  
A blue shirt keeps the blues away 
For a formal look 
You can say goodbye to Monday blues with this detachable collar shirt, paired with black or grey chinos. You can also style your blue shirt with tan or black formal shoes to create a smart, dashing and all-in-all fab look.
For a casual look 
When you want to keep things casual, style the shirt with loose-fit denims or dark brown shorts and you are ready for meetups, movie dates, outings & more. 
Checkout this blue detachable collar shirt made with Egyptian Giza cotton, imported high-quality buttons, a regular placket, full sleeves, and rounded cuffs.
A shirt that'll look grey(t) on you! 
For a formal look
If you enjoy somber shades, the grey detachable collar shirt with navy blue, black or charcoal chinos is a magnificent look for the office. 
You can try these navy blue chinos with the grey shirt for a more formal attire.  
You can also pair it with black formal shoes and a silver watch to complete the look. 
For a casual look
A grey shirt for casual outings can be the perfect choice. You can wear it with white or black chinos; and if you want to look spruce it up a little, there's always black shorts. 
Browse this smart Grey Detachable Collar Shirt by Zest Mélange made with nature's purity to give a sharp & casual look within one detachment. 
Now that you have gotten an idea about how to style detachable collar shirts to slay every look, would you like to give it a try? 
At Zest Mélange, you can find a variety of shirts made from breathable, bendable & earth-friendly fabrics to offer you ultimate comfort and style. Head to zestmelange and get ready to fashionize your everyday apparels with premium craftsmanship and a conscious ideology.