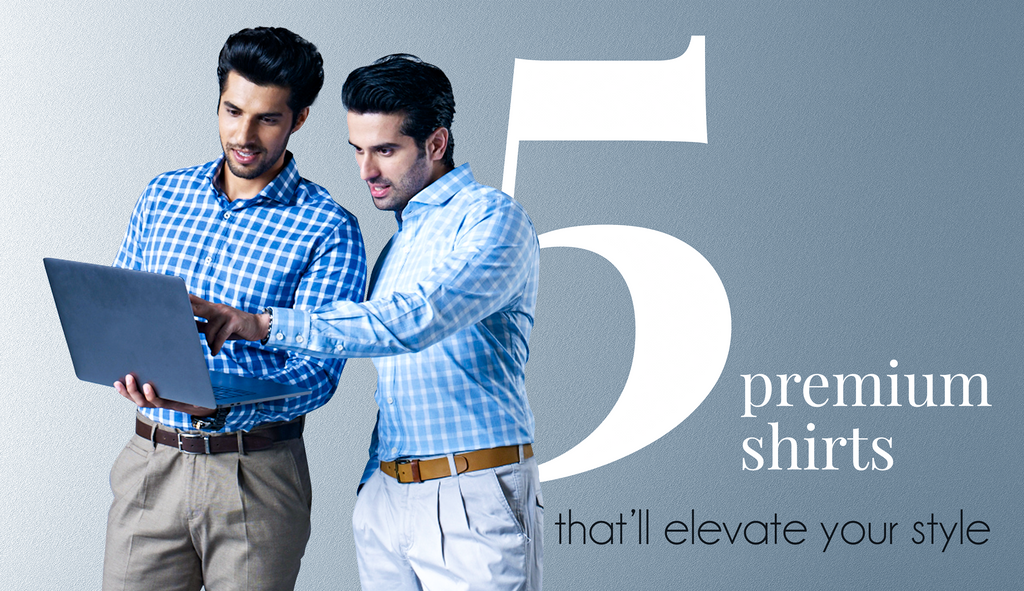 Elevate Your Wardrobe: Exploring the world of Premium Shirts for Men
Have you ever noticed how some men always look sharp and sophisticated? Their shirts look simple, yet they add so much to their look that just can't be explained.
The secret of their statement is the choice of shirts. A shirt can make a huge difference in how the world perceives you. They have been known to leave a lasting impression and make the person look elite, sharp, and irresistible.
So, is there any way to transform an ordinary wardrobe into the most exquisite one?
Let us help you browse through the best premium shirts for men.
    1. Whi(te) not?
A white shirt can never go out of style. It makes you look dapper, effortlessly. You don't even need to style it with multiple things; the shirt is enough to steal the limelight.
A premium white shirt with a blue contrast stripe can be the perfect addition to your wardrobe. This 100% cotton white shirt, from Zest Mélange, with stitch-on buttons, cutaway collar, angled cuff, and French placket will make you look expensive.
Premium white shirt with a blue contrast stripe
      2. Stripe, stripe, baby!
The kind of shirt you just can't take your eyes off!
Stripes give a formal and sophisticated look; the button-down design makes it the perfect shirt to wear for any & every event.
This
striped beige shirt
can be a perfect addition to your wardrobe
Or you can go
colourful in a casual way with this shirt
Just remember one thing – in fashion, stripes rule!
   3. Slay in black
A black shirt can be the best way to make a long-lasting impression. Black shirts complement any bottom wear, making them a must-have for any occasion.
You can go for a premium black shirt made from earth-friendly materials and look your best.
Checkout this Classic Black Shirt from Zest Mélange
Tip: Go for a slim-fit black shirt to look timeless yet trendy at the same time.
   4. A checks-mate
A checked shirt will transform your style completely. If you want to look like a magnificent Greek God, this shirt is all you need.
A premium checked shirt can make you look great –
like this blue one!
Designed for comfort and style using nature's purest materials, this shirt will be a game changer for you.
   5. Pleats to impress
A pleated shirt is in a league of its own! It immediately separates you from the crowd and makes you look like you are ready to take on the world. A good quality shirt, made from the finest nature has to offer, crafted to perfection is your best choice, no matter the occasion.
We've got a great navy blue
Pleated Placket Shirt
just for you which will compliment you and your wardrobe exquisitely.
Now that you have a better idea about what kind of premium shirts you should go for, let's understand which aspects make any shirt a premium shirt.
Here's the checklist you can keep before buying premium shirts for men:
 Made from high-quality cotton
 Naturally sourced material
 Lightweight, comfortable & breathable
 Craftsmanship & detailing
 Dynamic designs and high-quality buttons
When it comes to shirts,
Zest Mélange
is your go-to place for a wide variety of designs, styles, materials and more! So, what are you waiting for? Fashionize your shirt style with us, today!