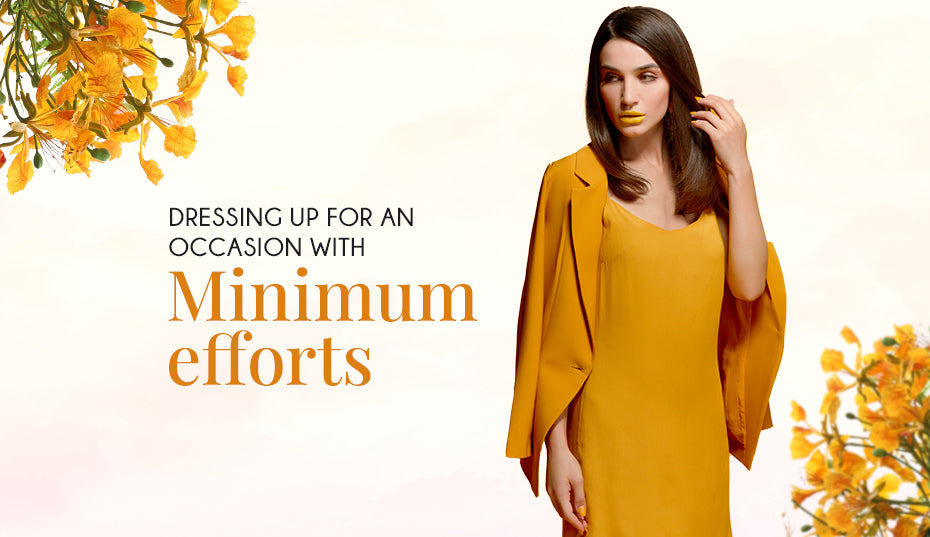 Dressing up for an occasion with minimum efforts
When it comes to fashion, it doesn't matter whether you're a newbie or an expert – everyone has to wrack their brains when invited to a formal dinner, a cocktail party or a black tie event.
 As people usually dress to impress at such social occasions, they often tend to dress up extravagantly to avoid being underdressed. But no matter what the unsaid rule for dressing up to the nines might be, sometimes simplicity is the best form of elegance.
 But how do you take a minimalistic approach without letting your outfit fall flat? Well, this blog is here to help you through it.
 Here are some tricks you can apply on how to dress up for special occasions with minimum effort:
Find the right fit for you
Got some gorgeous styles in your wardrobe but rarely picks them due to their ill fit? It might be time to alter them or invest in clothes that fit your body well.
 While baggy clothing might be all the rage on social media, they don't fit every occasion. Clothes that compliment your silhouette make you appear more crisp and sharp, even if they don't have any over-the-top elements to their design.
 A jumpsuit is just the type of garment to add that extra charm, like this black Virtuous Wrap-Around Jumpsuit, that enhances the shape of your silhouette with elegance and ease.
When in doubt, trust the classics
Striking the right balance between subtlety and extravagance can be fun but also quite difficult to crack; which is why, when in doubt, always go for the classics.
 Nothing beats a simple and elegant dress when you want to play it safe but still leave a lasting impression. The one thing that has classic written all over it is a red dress with an unparalleled charm, like this Splendacious Raglan Sleeve Princess Seam Dress.
 Splendacious Raglan Sleeve Princess Seam Dress
Got an oversized shirt? Add a belt or a corset and pair it with stockings for a cool day out. For formal occasions, pair a skirt with it and add a little extra personality to your outfit.
Knowing how to dress up more freely while still being in line with the occasion can help you elevate your style without investing in a bunch of items that won't see the light of day beyond the first time.
Pairing this Box Pleated Wrap-Around Skirt with a Balloon Sleeve Shirt can help bring together the bold and sober elements perfectly.
Solid colours make for lively impressions
Patterns are a hit or miss depending on the occasion. However, at times when you still need to shake things up and break free from black and white, play with solid colours. This works especially well when you do not wish to put in extra efforts; adding bright hues can make the simplest outfit stand out. 
Be the life of every party and brighten up your wardrobe with this Rolled Collar Sunny Dress.
Accessorize to add the finishing touch
Even if you decide to play it safe with a classic black dress, pairing it with the right set of earrings or a statement necklace can make a huge difference. A little bit of bling never hurt anybody!
If you've decided to shine bright like a diamond, do it right with these Real Diamond Cluster Stud Earrings and Chain, worn with the Enchanting Criss Cross Short Dress and turn heads wherever you go.
Enchanting Criss Cross Short Dress
Real Diamond Cluster Stud Earring
Real Diamond Cluster Pendant With Chain
Dressing up doesn't have to be a hassle; after all we all loved playing dress up as little kids. Fashion is all about expressing yourself in your own terms and if a minimalistic approach is your thing, do it right and own your style.
Find your perfect outfit, with minimal efforts, on www.zestmelange.com. Browse from styles that'll give you the balance of fashion and comfort in every piece, no matter the occasion.