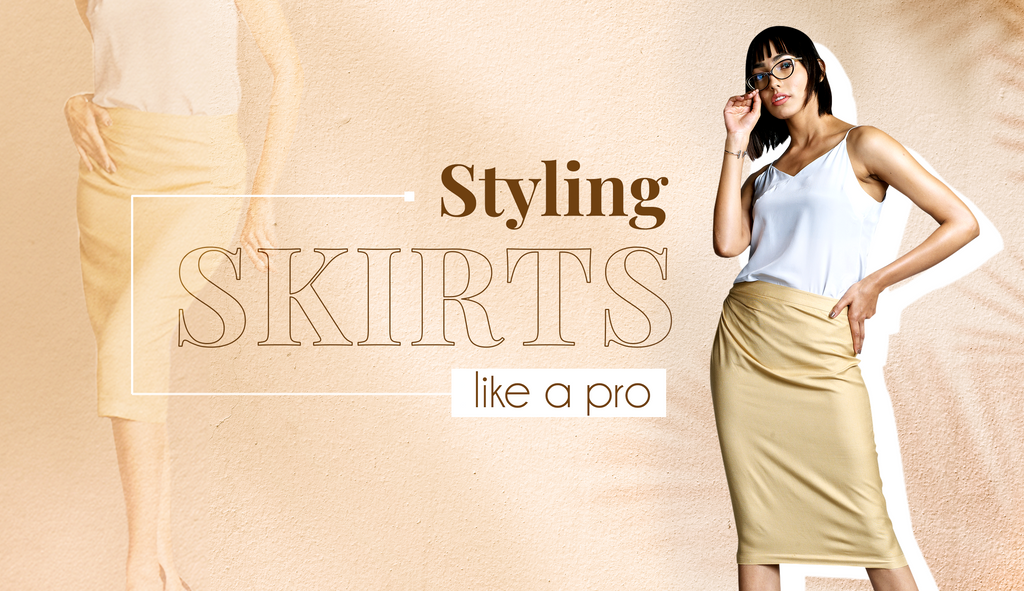 Styling Skirts For Every Occasion
In the ever-evolving world of women's fashion, no category of clothing is left unexplored. Everything goes through a transformation, exploding all over the fashion scene and turning into something that can suit every occasion you ever need to dress up for.
Over the years, the skirt has seen its fair share of variations, from maxi, midi, mini to straight, flared or pleated. Skirts allow a very distinct freedom of choice for the wearer and the designer alike as each design often reflects its unique personality thereby letting you express yourself through the type of skirt you pick.
Each style has the potential to be worn at different occasions, yet when not styled right, it may also end up looking a bit out-of-place. A pleated skirt worn for a vintage look may end up seeming like a part of a school uniform or a pencil skirt may make your date outfit look like something you'd wear for official meetings.
With so much room for experimentation, it can get overwhelming to figure out how to style skirts right. While it may not be an easy task, with the right guide, you can enhance and add to the elegance of each skirt. Without further ado, let's get into your ultimate guide to styling skirts, based on how you wish to express yourself no matter the occasion.
Get cosy on a casual day out
Do you ever have one of those days when you just want to have a chill day out without a care in the world? This Gathered Waistband Skirt is just the pick for such a day.
You can style this knee length skirt with an oversized shirt/hoodie for a casual vibe or a top like the Zip Through Blouson  on days when you want to nail the soft feminine and cosy look effortlessly.
Skirt With Gathered Waistband Detail


Spontaneous brunch plans made effortless
Brunches are made for catching up with friends – it is like an unspoken rule that all friend groups abide by. Pairing this dark and dreamy Box Pleated Warp-A-Round Skirt with the Bodacious Crop Top makes for contrasting colours that give you the perfect balance between sharp and soft to match the midday vibes.
However, just like Goa trips, the plans are almost always flexible and spontaneous. Switching between a sleeveless top and full-sleeve blouse can be a game changer for styling your skirt based on the weather, so that you can style long skirts in summer as well as winter! No matter how impromptu and last minute the plan gets, you'll have a go-to outfit ready for every brunch date with the girls.
Box Pleated Wrap-A-Round Skirt
The formula for formal outings
The ultimate tried and tested formula for dressing appropriately for formal business occasions never fails! Based on how formal or casual the business occasion may be, you can pair the Draped Front Skirt with the Formal Shirt With Yoke Detail (Black).
While pantsuits have been all the rage in women's formals for a few years, the classics will never go out of style. The versatility of this skirt is the key factor in making it the ideal choice when it comes to styling skirts for women efficiently.
Nail the date night essentials –
If you dare to wear your heart on your sleeve, you have to do it with style! Pair the Arioso Rouched Crop Top with the Draped Front Skirt to look radiantly charming and look like a million bucks on your dates.
A pro tip for styling skirts in winter? If you're stepping out for dates on very chilly nights, layer up with an overcoat. Whereas for moderately cold places, you can accessorise with a neck scarf/stole instead.
And there you have it! The perfect way to style skirts to match every mood, occasion or season!
Now that you know how to style skirts well, it's time to get premium quality skirts and wear them to your heart's content. Fashionizing your wardrobe to include more skirts in your everyday fashion comes easy with Zest Mélange, your ultimate destination to pick skirts for women online.
Zest Mélange is the fashion destination for the modern woman – a place where you can redefine what fashion means to you while also being responsible in your choice.
Shop from our collection of skirts made from earth-loving fabrics and feel the rhythm of nature guide you with each step you take. Go to
Zest Mélange
and fashionize responsibly!