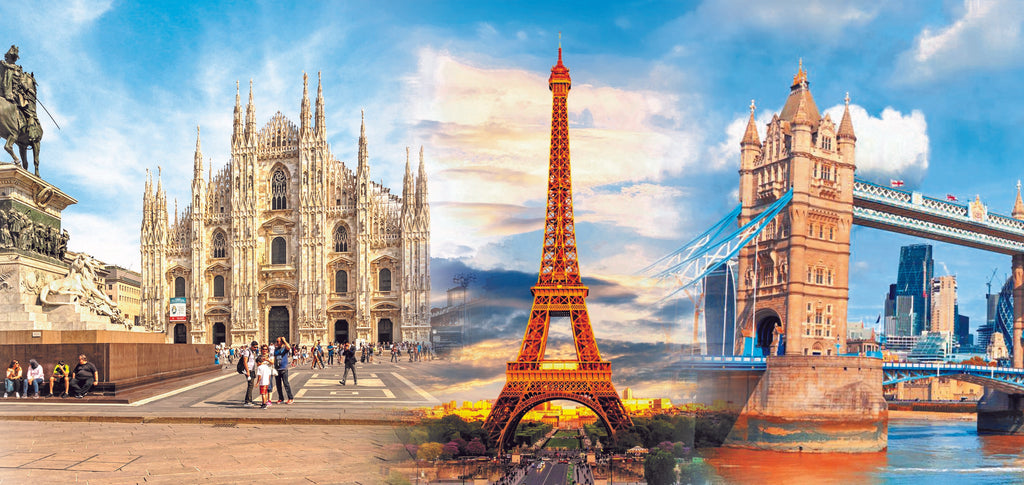 Thinking, travel and the desire to shape feelings into look unearthed the personality of an entrepreneur
How an inquisitive young man created the business of high fashion-­‐for the finest in India
They looked so nice, their clothing choices were outstanding! their garments, accessories and the styling, everything had different feelings which were always shown in their attitude as happy expressions! These were ever erupting thoughts in him.
Whenever, he visited the streets of Tokyo, Singapore, Paris, Berlin and Milan, he noticed that the feelings about European fashion products were seemingly different from the feelings noticed in fashion products available in India, his home market. The touch, the experience and even the finishing of designs displayed in European market was drastically different from, what was available in his domestic market. He was curious to know that why it was so?
This difference may mean a simple difference to most of us, but not for Dhruv Kakadia. Dhruv, who was an explorer, art lover and an appreciator of the value of creative excellence spent his time in investigating the actual reasons. To get his answers, he explored many International fashion cities, visited renowned fashion stores, met many renowned fashion designers and spoke with the craftsmen to conclude that the feelings he was attracted to were the most important give away of fashion products. The feelings of comfort, confidence, coziness and exuberance, they all depend upon the quality of material, creativity of designs and the mastery of craftsmanship.
Wearing something nice and comfortable, enhances the composure of calmness in a personality, increases the feel good quotient and helps in keeping good control over the mood swings. These factors help in defining a status which turns into a kind of personal recognition. Calm personalities look happy and attracted for the ease they create. Actually this kind of calm & carefree attitude is something which a creative fashion designer works to achieve in his fashion models during a fashion show.
Dhruv's inference was that the quality of material, quality of designers and the quality of people in the creation and manufacturing do make a difference. Comfort, confidence and crispiness in looks are the result of those feelings which have been generated by the fashion products of the user/ consumer.
Dhruv knew that he had an inquisitive personality but he wasn't sure that this inquisitiveness of his, would become the reason to turn him into an entrepreneur. As he moved forward in his exploration, his desire to collect the best from the world, curate the finest available material and get the artistic excellence crafted into fashion products got serious. Soon he realized that he was not just exploring but persuading his desire to Make in India. He was chasing his dream to collect the best of the world and to make the finest quality fashion products for the finest in India.
With over 2 years of excursions, detailed research and immense hard work, this explorer got fully transformed into an entrepreneur, but now he was not alone, another dynamic gentleman, Keval Navdiya was ready to support his enthusiastic approach of setting the business which had a clear objective -­‐ "create the best quality fashion products in tune with International trends and offer the quality which creates the feelings of comfort, ease and high fashion look".
"To begin with, it wasn't easy to procure the material of highest quality as the existing big players, kept a strong control on supply. They give priority to specific markets and specific brands  to  keep  the  challengers  in  control.  It  required  a  lot  of  persuasion,  follow-­‐ups  and commitments to be given to raw material cultivators and manufacturers, before we could ensure the procurement of that quality which we wanted to offer to our Indian market", says Dhruv Kakadia.
"His desire to create the best and his belief that there was a premium audience who looks for super premium quality and his study that, this set of consumers often travel abroad to shop in high street fashion stores for the quality which can gives them the look of European fashion. His idea to create great feelings in people with the fashion they do, motivated me to join him and support his endeavor in every possible manner", says Keval Navadiya.
Keval has firm footing in the business of premium diamond jewelry. He heads the manufacturing division of finest diamond jewelry business, which provides best jewelry to biggest fashion stores around the world. His understanding of premium consumer choices has been handy to unearth the potential of business preposition Dhruv was trying to create.
"Dhruv's youthful enthusiasm, his travelling habits, his liking for artistic excellence and his love for creativity has been able to turn a casual desire into a dynamic business proposal", says Keval. He adds that today we are clear, this business of Zest Mélange is the business of feelings, comfort, style and glamour which happens with highest quality assurance only.
Zest Mélange desires to reach to every premium quality loving consumer who wishes to feel fashionized with the finest possible quality which comes only from the purest natural material.
Zest Mélange fashion products for men & women are now available on
www.zestmelange.com,
with free delivery promise, anywhere in India.